From the Hot Rod Network article (written by Douglas Glad on November 4, 2014): Remember back to the June 2014 issue of Car Craft where we showed you Brian Lofquist, Derek Peterson, and Tremayne Brown. These three guys had some serious homebuilt turbocharged street cars that we shot in 2013 at the Car Craft Summer Nationals for the cover of the magazine. This year, Brian invited us to the place where it all began, SharaDon Performance in Hugo, Minnesota. Inside we met owner Don Baierl...who gave us a tour of this Mopar-lover's dream shop. There was more square footage than we could get in one frame, so we decided to show what they had hidden in the back.
Projects
This page will feature projects that SharaDon Performance engineered (there are a lot of them, so check back soon).
Baldwin, Wisconsin, project photos: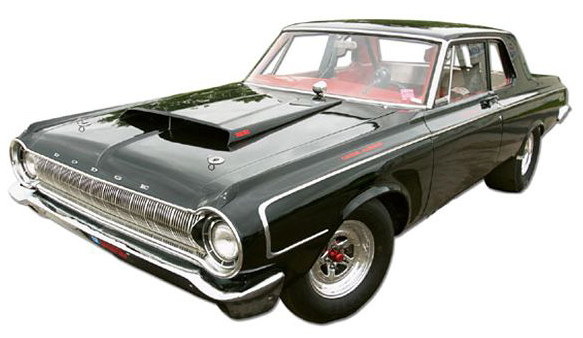 Photos Of Car Raced By Don Baierl
From Article Written by Marko Radielovic Dec. 1, 2004 in HotRod Network hotrod.com
1964 Dodge 330 Lightweight Clone - Light Heavy Weight - Caution...Aluminum!
Don Baierl and his wife Sharan combined their names for their one-stop car restoration business and named the business SharaDon Performance. Years ago they purchased the 1964 Dodge 330 lightweight clone pictured above. The car was built with all the correct, rare and expensive parts that make the factory lightweights great. It even came with the correct '64 K-heads on the basically stock 426 race Hemi, the right seats, seat brackets, core support, thin bumpers, and aluminum front-end and doors. The car is a clone without reproduction parts!
Don Baierl raced the car for over twelve years, running in the mid to high 10s. The car ran so well that when it came time to change the valvesprings, Don and his crew checked the main bearings just out of curiosity. What they found looked so good that they put it back together and continued racing it for a couple more years. Don was so impressed with the Hemi in the 330 that he hired the person who built it to manage the engine program at SharaDon Performance. When the car was retired after a long and distinguished career, Don and his crew put together a very serious 484ci short-block via a 4.15-inch stroke crank. They filled the block with JE forged slugs squeezing 12.5:1 compression, worked in a top-secret Comp solid flat-tappet grind, and reused the stock race Hemi top end. The resulting car was good for over 660 horsepower and propelled the black beast to a best of 10.04 at 132 mph.